Andrew started in the NYC Motion Picture Industry before transitioning into his 20 years in Biomedical Innovation. Today he teaches design and innov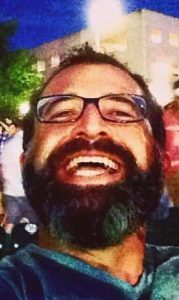 ation in Biomedical Engineering (BME) at UNC & NC State where he is an Associate Professor of the Practice. His students' coursework have led to multiple startups including Novocor Medical Systems, Augment Medical, Contour Surgical, 410 Medical, and MEDIC. He is founder and former executive director of the NC Medical Device Organization, which became an NC Biotech Center of Innovation. He was co-founder and VP Business Development for the design and manufacturing company EG-Gilero. Andrew worked for Alaris Medical Systems (now BD's CareFusion) as a design engineer and project manager. He is Business Advisor and Speaker for the Wallace H. Coulter Foundation, an advisor to the NIH C3i Program, Director of Duke NeuroInnovations, and on the planning team for BME IDEA. He holds a BS in Physics, English Literature, and Secondary Education from UNC Charlotte, an MS in BME from UNC Chapel Hill's Medical School, and a Ph.D. from the UNC/NCSU BME Department. Andrew has two children, 16-year-old daughter Virginia Elaine and 14-year-old son Andrew, Jr. His wife, Abigail Kent, is a nurse at the NC State Highway Patrol's Medical Office.
EXPERTISE
Andrew's particular expertise is in Biomedical Innovation and Design Thinking.
He has provided innovation training at companies including Teleflex Medical, Cook Medical, and Suntech Medical.
He has spoken at national and international meetings including the American College of Emergency Physicians, Society of Academic Emergency Medicine, North Carolina Nurses Association, and BioJapan (in Yokohama City).
He has lectured at national and international academic institutions including Drexel, University of Missouri, University of Southern California, University of Washington in Seattle, Virginia Commonwealth University, Vanderbilt, NC A&T, Nagoya University in Japan, National University of Ireland in Galway, and Strasbourg University in France.