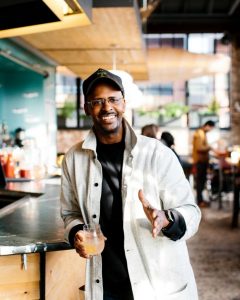 Scroll down for bios and suggested reading from the RSC Team
---
Nicholaus M. Neptune is an artist, educator, entrepreneur, and community advocate currently serving as the managing director of Transfer Company Food Hall, Ballroom and Work Hall; a former partner and co-founder of Raleigh's shared creative studio, The Assembly; and owner behind the music and entertainment firm, Good Times Assurance Company.
For over 15 years, Neptune's work has been defined by the constant celebration, building, and strengthening of community and culture through music, art, food, and play. In 2020, Raleigh Magazine recognized his longtime community work by including him in their "30 in their 30s" feature as one who's working "hard for positive change … to make life better for everyone in the city."
He lives in North Carolina's Capital City of Raleigh, and currently serves as an appointed commissioner with the City of Raleigh's Bicycle and Pedestrian Advisory Commission and is a board member with the Wake Tech Community College Foundation.
Suggested Reading
Palaces for the People; Eric Klinenberg
Subjects: Social Infrastructure; Economics; City Planning; Equality; Political Science; Urban Development; Land Use and Architecture
Principles: Life & Work; Ray Dalio
Subjects: Entrepreneurship; Management; Leadership; Discipline; Critical Thinking; Communication; Interpersonal Relations
21 Lessons for the 21st Century; Yuval Noah Harari
Subjects: Civilization; International Relations and Global Politics; Technology and the Future of Work; Equality and Justice; Education, Science, Religion and Resilience
---
Kristine Sloan is a Triangle native who brings a deep commitment to justice, interdependence, and authenticity into all of the work that she does. She's an entrepreneur, organizational leader, facilitator and strategist. Kristine is the Executive Director for Leadership Triangle, a local nonprofit committed to developing leaders and promoting regionalism to address issues such as regional growth, transit, water quality, housing affordability, open space, education, and economic and social equity.
Prior to joining Leadership Triangle, Kristine was the CEO of StartingBloc, a global leadership development nonprofit supporting 3200+ entrepreneurs, activists, organizational leaders and organizers in amplifying their impact. Through StartingBloc, she worked with corporations like Facebook, Red Bull, and the American Heart Association to develop and nurture their talent. Prior to StartingBloc, she led a multimillion dollar grant project in Burundi for All Across Africa, designed cross-cultural programming for NC State University, worked on water advocacy rights with indigenous populations in South India and co-founded a social enterprise in West Africa.
Kristine holds three degrees from NC State University, including a Masters of International Studies with a specialization in Rural Development.
Suggested Reading
Emergent Strategy by adrienne maree brown
Subjects: Movement building. Ecosystems. Biomimicry. Social Justice. Strategy. Transformative Justice. Culture.
Brave New Work by Aaron Dignan
Subjects: Org Design. Culture. Power. Entrepreneurship. Management. Process. Strategy. Future of Work.
---
Bridget Harrington is the Executive Director of Innovate Raleigh where she helps our growing entrepreneurial community through new initiatives and support services. Bridget draws on two decades of leading innovative organizations as a marketing leader, business strategy consultant, and founder.
Bridget graduated from the School of Media and Journalism at UNC Chapel Hill. Soon after moving to New York after college, she co-founded Syndicate Media Group, a strategic marketing agency that helped clients like Microsoft, Coca Cola, Land Rover, and Soho House develop ground-breaking experiential campaigns. Bridget led finance and operations of a team of over 40 employees across offices in New York and Los Angeles.
After exiting Syndicate and traveling the world for a year, Bridget was hired by Gannett's Head of Innovation to work on a new local media strategy as Director of Revenue for The Bold Italic, a local media outlet created in collaboration with IDEO in San Francisco. Working closely with the executive team, she crafted a viable financial strategy, oversaw the relaunch of the brand, and built a marketing and sales team that led the organization to profitability. After 18 months of growth, Harrington worked closely with Gannett's executive team to successfully sell the company.
Bridget then joined global financial services provider KPMG, working on some of the leading venture capital firms in Silicon Valley. She earned an MS in Accounting from San Francisco State University, and became a CPA to gain deeper expertise within finance and accounting.
Bridget lives in downtown Raleigh with her husband and son.
---
Seth Friedman is the CEO of Passage Home. He has been a Social Sector leader for two decades. Seth has held leadership positions at national organizations including Father Flanagan's Boys Town and the ACLU. He has a long history in organizations focused on social justice, community development, education, and breaking the cycle of poverty and trauma. Seth currently uses all of his past experiences as the CEO of Wake County's antipoverty organization—Passage Home. Seth earned his Bachelor's degree from East Carolina University, a Master's in Public Administration from CUNY Baruch, and a certificate in Ethical Leadership from Rutgers University.
Seth has worked in lower socio-economic communities throughout the country, including in Omaha, NE; Las Vegas, NV; New York City; Paterson, NJ; and Raleigh, NC. Seth looks to bring an innovative style of leadership that combines the best practices from the private sector and the heart and compassion from the social sector all in an effort to build stronger communities that benefit all.
Seth spends most of his free time with his wife and three kids. Pre-pandemic he coached his son and daughter in basketball and soccer. During the pandemic he coaches them how to properly wear a mask and wash their hands for 20 seconds.
Suggested Reading
The Five Dysfunctions of a Team by Patrick Lencioni
Subjects: Leadership, Team Development
Misbehaving: The Making of Behavioral Economics by Richard Thaler
Subjects: Behavioral Economics
The Lynching: The Epic Courtroom Battle That Brought Down the Klan by Laurence Leamer
Subjects: The last lynching in America, KKK, politics, Southern Poverty Law Center
---
Karen LeVert is currently a Venture Partner with Pappas Capital.  She has a long history of further developing early stage technologies from university research labs and launching them into the commercial marketplace. These commercialization efforts led to spin-off companies in optoelectronics, medical devices, and agriculture via Southeast TechInventures, Inc. (STI) and Ag TechInventures, LLC (AgTI) – innovation labs she co-founded.   Ms. LeVert's business experience encompasses both corporate and entrepreneurial worlds with over twenty-five years of successful leadership experience in executive management, start-ups, and technology commercialization. Karen started her career at a Fortune-500 insurance company holding positions of increasing responsibility from computer programmer, to controller, to general manager of a 500-person Property & Casualty service center. Before founding the innovation labs, her first entrepreneurial venture was launching a franchise bioremediation company that she later sold.  Her next entrepreneurial venture was co-founding a Silicon Valley based software company.
Ms. LeVert earned an MBA from the University of Dayton and an Information Technology undergraduate degree from Eastern Michigan University (while receiving All-Academic honors captaining her Division I basketball team).
Along with her professional duties she serves as a Board member for several entities: North Carolina Biotechnology Center; Economic Development Partnership of North Carolina; North Carolina School of Science and Math; NC IDEA Foundation; and LCBA Life Insurance Company.
---
Dr. Andrew J. DiMeo, Sr. is a Lifelong Learner in the art of Innovation, Design, and Entrepreneurship. He is Founder & CEO at CanvasGT, a software startup developing solutions that boost the innovation pipeline by connecting left and right brain thinking. Andrew also serves as Innovation & Design Coach at Trig, an industrial design firm serving the consumer, healthcare, and durable goods markets. Andrew's design background started in the NYC Motion Picture Industry before transitioning into his 20 years in Health and Medical Innovation. Andrew served 12-years on faculty at UNC & NC State. His students' coursework led to multiple startups including 410 Medical. Andrew's startups include design and manufacturing firm Gilero, not-for-profit trade associations NCMD and MEDIC, and medical device company Novocor Medical Systems. He has served as business advisor and speaker for the Wallace H. Coulter Foundation, advisor to the NIH C3i Program, and Director of Duke NeuroInnovations.
Suggested Reading
Zen and the Art of Motorcycle Maintenance
Book by Robert M. Pirsig
The Goal
Novel by Eliyahu M. Goldratt
---