For those that have had me in class, you'll know my teaching style is rooted in story telling, metaphors, and analogies. For this post, I thought it might be fun to start a tradition to blog the story that I'm currently telling students. For the alums, maybe these will ring a bell.
This week, it's the story of The Mansion at Glen Cove.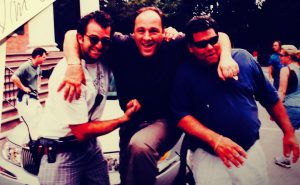 Seems like ancient history, but, way back when, I had the fortune of being born into the NYC Motion Picture Industry and worked as a set dresser and prop. The most noteworthy show I worked on was The Sopranos and had the pleasure of getting to personally know James Gandolfini (rest his soul).
I used to work with and for family members that each had different personalities. Two of interest to this story are my cousins Jerry and Chris. Jerry was usually a boss and ball buster. When working for Jerry, I just remember being wise to keep my mouth shut, opinions to myself, and head down, focused on the orders given to complete the job. When working with Chris, I just remember it being fun.
I think it was the summer of '94. I was working on the movie Sabrina starring Harrison Ford, Julia Ormond, and Greg Kinnear. We were filming all summer at this mansion in Glen Cove, Long Island. I remember it being the first time for me that Jerry wasn't the boss. He had taken a job with another movie, and Chris was now the lead man. Oh, it was going to be a great summer. Most days, I was commuting in with my brother, working for Chris… it couldn't be better.
I was a selfish kid then, early 20-something. With the money made from working the movie, I ordered a new Harley Davidson motorcycle, coming from the factory to Darryl's Harley Davidson in Congers, NY. For what it's worth, Glen Cove is a solid 90 minute drive to Congers on a quiet weekend in New York.
Nearing the end of the summer as the movie was wrapping up, I got word that the motorcycle was going to be delivered, prepped, and ready to pick up on a Saturday. Darryl's closed at 2PM on Saturdays and was closed on Sundays. The Saturday pickup was key, because the hours we worked at the Mansion, there was no way I could get it on a week day.
Friday night, the day before the bike was ready, I got a call from Chris. The production company wanted the mansion cleared out Saturday. He had a crew of 6 coming in (not including my brother), to show up at 7AM. We'd have 8 hours of pay to get it cleared out.
I was bummed. The work day was going to delay picking up the bike by a week.
Saturday morning, 7AM, the crew is sitting in a kitchen at the mansion, drinking coffee, eating eggs on rolls, and Chris wasn't around. The attitude of the crew was… 6 guys… 8 hours… this was going to be a breeze of a day. But by 7:15, when no one was moving from the kitchen…, all I could think about was if we moved fast, I could get out of here by Noon and get that bike.
I just got to work. Pretty fit back then, I was carrying couches down stairs on my back (OK, maybe a stretch)…, but literally, busting ass, solo, getting that truck loaded. From my perspective, the rest of the team was standing still, drinking coffee, and just watching as I loaded that truck (biased eyes maybe?).
At Noon, the job was done. The truck loaded…, and Chris showed up to check on the progress.
I walked up to him and said, "Job's done, can I go? I want to get to Congers before Darryl's closes at 2."
Chris said, "If I hired you for 8 hours, you work 8 hours. After lunch, go out and get started on the yard, we have a lot to do out there that we can get a jump on."
I was pissed. I didn't eat lunch, I just went directly to the yard and started clearing the grounds.
Twenty minutes later, Chris came out to me and said, "It's good. Just go. You can leave and get your motorcycle."
I screamed out of there on 4 wheels…, made it to Congers just in time, left the 4 wheels in the lot, and road off into the afternoon sun along the Palisades on my new Harley Davidson.
-The End
Morals of the Story
Authority changes things: Maybe Chris and Jerry were both awesome guys. As I grew up, I learned this to be true. Jerry was a boss and Chris was a colleague…, until Chris became a boss. Our perceptions of people can be heavily influenced by the authority they may or may not have over us. When a friend becomes a boss, the relationship can change.
Leaders are not omniscient: When Chris rolled up that day, he had no idea what went on that morning.
Communication is key: Why did Chris let me go? Did one of the team members let him know how hard I worked that morning?
Alignment of mission and motivation are important: Was I a hard worker, or did I just have a selfish motivation? These other 5 crew members expected an 8 hour day of working inside during the summer, unloading a mansion. What they got was an afternoon in the hot sun, working in the yard as I left them behind.
I think that high performing teams are those that communicate with each other and with management. They discuss their personal likes, dislikes, strengths, weaknesses, passions and mission. They work together to get on the same page for the team's mission. High performing teams have members that are all motivated to build each other up, rather than internalize selfish interests.
Thoughts? What do you think are aspects of high performing teams? Looking forward to hearing from you in the comments section below.
Health & Happiness for All
Andrew